I am linking up with
Tara @ 4th Grade Frolics
for her Lunchbox Linky party! She's also having a giveaway for a cute Thirty One lunch tote, so click the adorable button to link up and show what's in
your
lunch bag!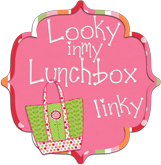 ...And man, I could really stand to win that giveaway, since I don't have a lunch box/bag/anything! Here is what I will be bringing for lunch tomorrow:
Yep, that's a bag from the Dollar Tree! I put everything in a grocery bag to take to school, then usually leave the bag at school since we use plastic bags every day in our classroom for various needs. I'd love to have something cute and reusable! On the menu for tomorrow:
-Greek yogurt for breakfast
-bread, red pepper hummus, and avocado for a sandwich at lunch
-pomegranate green tea mix (and water cup - my one cute thing at lunch!)
If I get hungry for more, I can buy a salad from our school cafeteria. This is a pretty typical lunch for me - I either do sandwiches, or bring dinner leftovers. Since I'm getting ready to leave on spring break and trying to rid the house of food, I haven't been cooking dinner this week, so it's sandwiches all week.
I technically have a 30 minute off-duty lunch, but I never take it. It's just not feasible with my classroom. Instead, I eat in the room with my kids, scarfing down bites in between supervising/preparing meals/feeding/tube feeding kids. Sometimes, if we're lucky, my classroom staff and I get to eat together at the group table in our room, if the kids are doing all right on their own. But someone is always needing help, or needing more of something, so it's a very up and down time. We joke that we feel like waiters during lunch, since most of our students are not physically able to serve themselves. We usually do lunch around 11:15 or so, depending on that day's schedule.
Go ahead and link up - or at least stop by 4th Grade Frolics to see everyone else's lunchy posts!