Does everyone here know about
Teacher Wish Lists?
A lot is said about Donors Choose, which is definitely an awesome resource. Teacher Wish Lists is somewhat of a similar concept, except on a (generally) smaller scale, more versatile, and is a great way to get parents and your immediate local community on board with helping out with things you need for your classroom!

Basically, you sign up for a free account and then create a wish list for your classroom. You can share the wish list link with anyone, or people can search for your wish list. There's no middleman here - people contact you and arrange the best way to get you what they're donating off of your list. This makes it a great thing to put in class or school newsletters, share with parents, or anyone locally!
I make up a new wish list every year and include a variety of items I need for my classroom - some free (we always need plastic grocery bags, for example, and I've asked for old magazines, too), some "used is okay" stuff people may pick up at garage sales (like supplies for our cooking lessons), some basic school supplies our school does not supply us (like construction paper and tempra paints), and some specialty stuff or relatively larger-ticket items (such as games, books on CD, or specialized scissors - anything specialized I provide a website). I always provide a description of the item, or why it will be used in my classroom - just a brief, one-sentence descriptor.
I
love
this resource. It's super-easy and fast, and it gets results! It's up to you to publicize your wish list (most people don't know to search for you on this particular website), so it will be as effective as you can make it...Definitely still keep using Donors Choose for your big-ticket stuff, but this is great for smaller "incidentals" or supplies...and there's the bonus of knowing many of the donors and getting to thank them in person! With "Back to School" on most of our minds already, I thought this was a good time to share about this great website.
On another note, Amy over at
The Resource(ful) Room
is turning one in bloggy years! Help her celebrate her bloggiversary by stopping by and entering her
amazing
giveaway!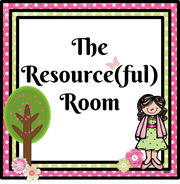 I'm just one of the many bloggers who have contributed products to this giveaway, so definitely go check out the jackpot you could win! Happy Bloggiversary, Amy!