Merry Christmas, bloggy friends! I am scheduling this post out, so I hope by now you are enjoying your Christmas Day!
I had fun participating in the Holly Bloggy Christmas 2012 over at Teacher Blogger Exchange!
My partner for the exchange was Jennifer from The First Grade Dream. Go check out her cute blog!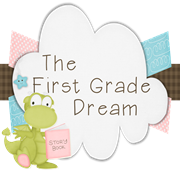 The exchange's theme was "My Favorite Things," (a la Oprah or Maria VonTrapp...though no, I'm not providing anyone with a LEXXXX-USSSSSS or Girls in White Dresses with Blue Satin Sashes - sorry!). I had fun picking out a few of my favorite things to send to Jennifer! Here's what I sent:
-a jar of my favorite homemade Mexican Hot Cocoa Mix - so yummy! I love making this for stocking stuffers every year. (When I made this one for Jennifer you'd better believe I made one for myself, too!)
-Ghirardelli Dark Chocolate and Caramel chocolates...I saw on Jennifer's blog that she loves chocolate and caramel, and I definitely do, too!
-"You Are Here" bookmarks and "Just Sayin'" post-it notes...I have always loved these sticky notes, list notepads, etc. from Knock Knock Stuff - they're so snarky and cheeky and just plain fun. I give them to all my teacher friends - my best friend who teaches 7th grade uses one version of them (can't remember which one...there are a lot!) for notes on her kids' papers, even!
-Burt's Bees lip shimmer lip gloss - I use this stuff every day; love it!
I hope you enjoyed your surprises, Jennifer! Merry Christmas!
And here is what I received in the exchange...yes, I cheated a little bit and opened the package two days before Christmas...because I was going out of town and not bringing the computer...yeah, we'll go with that reason and not that I just couldn't wait any longer :) I received an adorable package from Mrs. Santana at The Learning Tree - check out her blog if you're not already a follower!
I wish I would have thought to get a photo of the package itself - let's just say Kimberly sent me a true "brown paper package tied up with string" - how adorable! I was all giddy just at the packaging! Here's what was inside:
Four super-cute mason jars filled with goodies - jumbo binder clips, a plant (so excited!), apple post-its, and colorful pens! I love absolutely everything! These are some of my favorite things, too!
Take a look at the tops of the jars, too - I can't wait to display these on my desk! Thank you, Kimberly, for such a fun, thoughtful surprise!
Merry Christmas, bloggy friends!