I had jury duty at the beginning of this week (actually got selected for a case, which was interesting to say the least!) and an all-day training at our ISD on Thursday, so I was in school for a grand total of one day this week. Jury duty was actually a mostly positive experience (very glad I did not get selected for one of the more major cases they were trying this week - a murder case and a rape case were up for jury selection, neither of which I would have wanted to be a part of), though sub plans for 4 out of 5 days, two weeks before Christmas break, was less than ideal! We have lots to do in the coming week!
This week, my class studied Kwanzaa. Last week for Hanukkah, we made
latkes
. This week Tuesday, they made sweet potato pie. This recipe is one we used last year, so I know it's fantastic! Many of my students last year had never had sweet potato pie, and many enjoyed it. They enjoyed it this year, too - I snuck some leftover pie yesterday, and it sure turned out great.
Below is the visual recipe they used: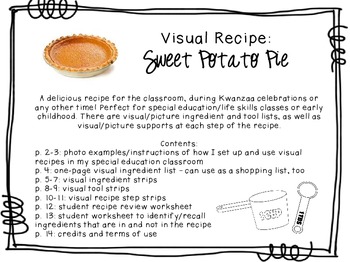 We have studied Hanukkah and Kwanzaa for the past two weeks; this coming week we will focus on Christmas. We aren't going to do a Tasty Tuesday cooking class, as we will be too busy with other holiday preparations. We are going to our local
botanical gardens and sculpture park
on Monday to view their "Holiday Traditions Around the World" exhibit on Monday. We need to make our parent holiday gifts, set up and decorate our Christmas tree, make cards for our sister school buddies, wrap parent gifts, and have our class gift exchange. Whew! I'm tired already.
Full report to come on our week of Christmas study/celebration...Right now, I need to venture out into the snow to do my own Christmas shopping. I'm sure it's going to be crazy busy this weekend. Hope other people are full of the holiday spirit and not impatience and grumpiness!